Aurora Kids Staff believes in an active, hands-on approach to learning. We know children learn more when they are having fun. Biblical truth will always be taught in context to the joy that God intends for us to experience when we are in relationship with Him. Special events and fun activities both in the classroom and after services keep kids wanting to come back to Aurora.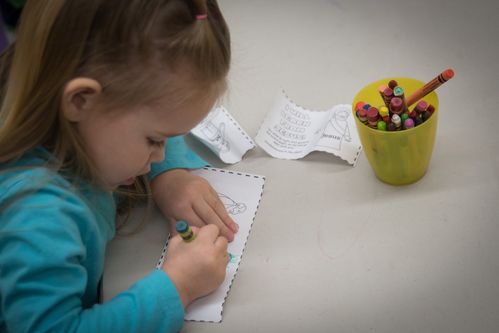 From the moment you pull in the parking lot, you'll notice lots of friendly faces eager to show you the way.
Services are at 9:00am & 10:30am. If it's your kids first time in Aurora Kids, please plan to arrive 15 minutes before the service starts and head to the "First Time Kids Check-in" kiosk.

For your first visit, fill out one "Aurora Kids" card for your whole family. Your child will receive a name tag with a security number, and you will receive a tag with a matching number.

Upon your next visit, you will be able to print out a name tag and matching claim check from our secure database for each child. We verify parents for kids of birth through early elementary school.
We know your kid's safety is top priority to you and we agree it should be! Each of our Aurora Kids team members has completed a federal & state background check. After you're registered, you'll be given tags for you and each of your kids; each family is given a new unique security code every week. Don't lose your tag! Our teachers won't be able to release your kid to you without making sure your security codes match!
On your way home, be sure to ask your child questions, such as "Did you have fun?" and "What did you learn today?" It's our goal that every child has a positive answer to these two questions, every week! Kids will also leave with a take-home sheet so they can review that weekend's lesson with a parent and continue the conversation during the week.
Early Childhood (Birth-Kindergarten)
In Early Childhood, we create a loving, quiet, and calming environment for our little ones to discover and explore. We love getting to know each of them, seeing what captures their attention, and watching them make new friends. We use a simple curriculum that equips parents and volunteers to pray for each child, help them begin to explore who God is and to try new things.

Elementary (1st-6th Grade)
Elementary is a fun, interactive, and inspiring kids ministry designed with your 1st-6th graders in mind. Kids worship together and learn about God from our team of inspiring teachers. Elementary kids also have a chance to connect on a more personal level with their small group leader, and with each other, during their small group time.
Partnering with families to help kids discover Jesus and the journey.
We Make it Fun with strategically designed programming to fit the needs for each age group. Most of the time, you will find us playing a fun game that reinforces the day's story or working with our small group leader on a craft to take home.
We Make it Safe by ensuring our environments are up to safety standards and procedures are established. Every one of our volunteers remains current on background checks and completes a thorough training process.
We Make it Last by partnering with you as parents! We want the conversations we have with your kids on Sunday to be a catalyst for what happens in your home throughout the week. Check out our Parent Resources for great ways to learn further at home.
It is our desire to come alongside parents and journey together to equip the next generation with a faith of their own.
Child Dedication is a public sign that parents are seeking to bring their children up in the ways of Christ, set them apart, and present them to God.
Whether you love working with kids or prefer interacting with adults, we have team for you! Start the application process today.
If your child is interested in baptism, we would love to send you material that will help your child discover who Jesus is.